Please call Steve Lucas on 0439 932 034 for more information.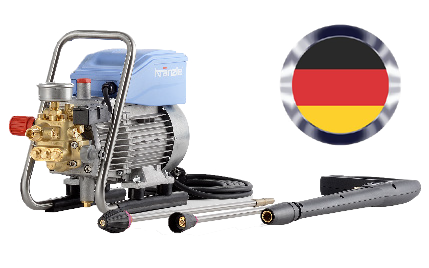 Extremely handy and compact design. Super quiet, soft start and slow running motor. Perfect for commercial use. Model No. HD7-122. Made in Germany.
120 bar, 1740 psi
7L/min
240V, 7.5A
Dirtkiller Lance
10m Hose HP Hose
$1,483.90
A compact, robust cold water, high pressure washer. Easily transported, enabling you to clean anywhere. Model No. 1152TST. Made in Germany.
Easy Start – New!
115 bar, 1667 psi
10L/min
240V, 10A
Dirtkiller Lance
Hose Reel + 15m HP Hose 15m Hose Reel
$1,868.90
High quality, high performing 240V hot water, high pressure washer. With a host of features including a heavy duty 1400rpm motor for longevity. Model No. HW1211. Made in Italy.
120 bar, 1740psi
11L/min
240V, 14A, 15A Plug 10m HP Hose
Max. 140C
2 yr warranty
$6,594.50
The ultimate portable cleaning power. Super tough machine featuring a 13HP GX390 Honda engine and Heavy Duty CAT® pump. Light weight alloy frame and large pneumatic wheels make it extremely portable. Model No. PS4200HD. Made in USA.
4200 psi
16L/min
13HP GX390 Honda Engine
15m HP Hose
Optional Turbo Nozzle
Trigger Gun with Dial 'N' Wash
$3,514.50